Hardangervidda Marathon
Full and half distance on the Hardangervidda mountain plateau.
Start in Eidfjord and Måbødalen valley, finish in Øvre Eidfjord!
SEPTEMBER 1st 2018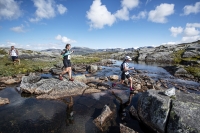 A bit longer marathon (44,9 km) and half marathon (24,9 km) on mountain trails. River crossings and running in narrow valleys around Eidfjord. Of course you will run close to the Hardangerjøkulen glacier, Vøringsfossen waterfall and on the Hardangervidda plateau.
Registration Hardangervidda Marathon
Hardangervidda Marathon is a tough race in harsh conditions, please take a look at what kind of equipment you need before you decide to sign up. We are looking forward to see you in Eidfjord! Registration will open during springtime 2018